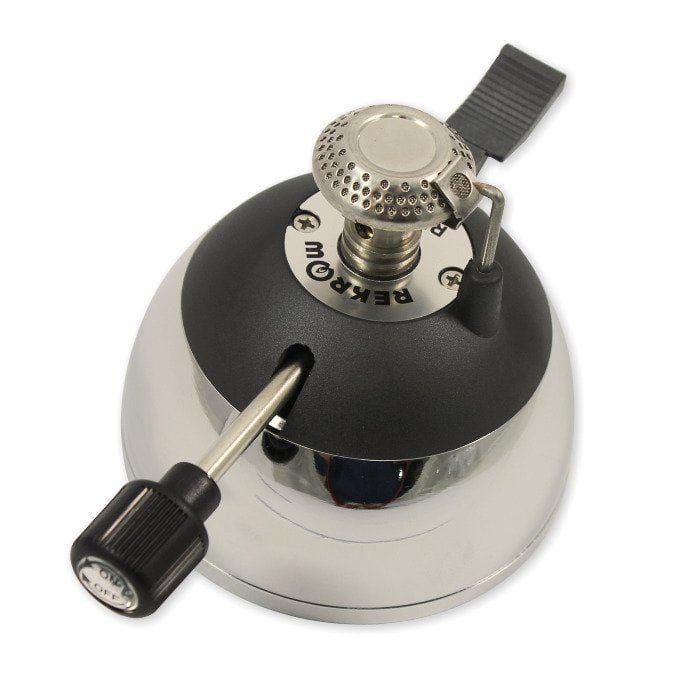 Voltage Coffee Supply™
Rekrow Elegance Micro Burner

As efficient as it is versatile, the Rekrow RK4203 burner makes a great addition to any siphon coffee setup but is certainly not limited to that purpose alone. As a suitable substitute for a Bunsen burner or hot plate, this burner features the standard support and ring stands of a standard laboratory burner.
Rekrow Elegance Micro Burner Features
Tip-resistant burner for safe, stable operation. 

Lever-action igniter and flame adjustment knob ensure you get the controllable flame size you need within seconds.

The fill valve built into the burner base, along with a standard, multi-fill butane fuel cartridge, allows for easy refilling. 

The portable burner takes about five minutes to boil 250ml (8.45oz).
Technical Details 
Fuel is not included but can be bought from most hardware or camping supply stores

Fuel: butane

Fuel capacity: 30 grams/50 ml

Maximum burn rate: up to 0.9 grams/minute

Burn time: about 35 minutes at maximum burn, 60 minutes at half-burn

Maximum heat output: about 2500 Btu/hour (0.75 kW)

Maximum temperature: about 1300C/2400F

Ignition: Push-button Piezo

Unit size: 125 mm (L) x 80 mm (W) x 75 mm

Unit weight (empty): 400 grams
---
Share this Product