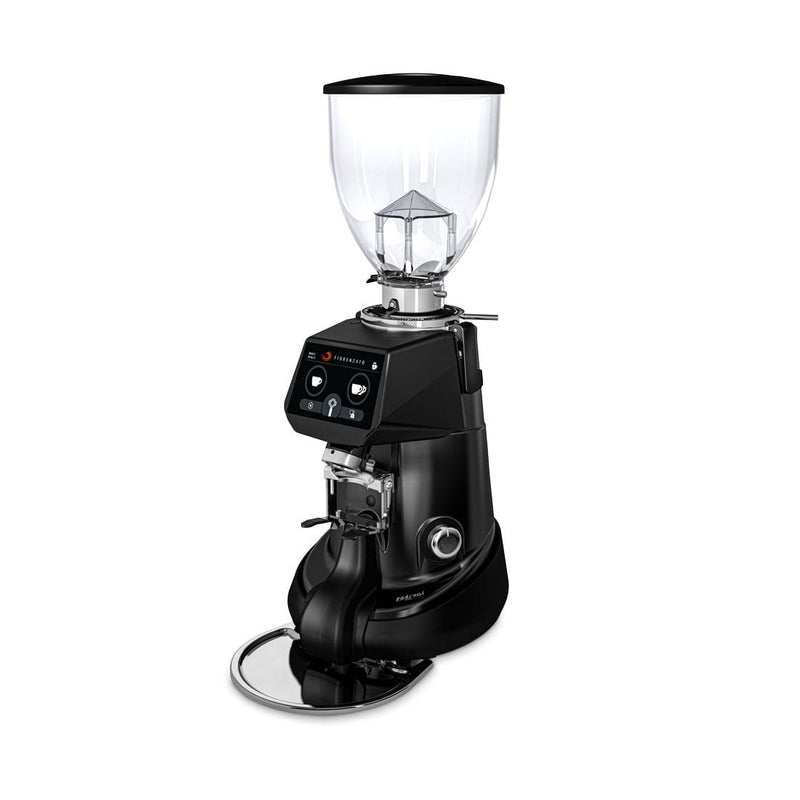 Fiorenzato
Fiorenzato F64 EVO XGi PRO Grind By Weight Espresso Grinder

The Fiorenzato F64 EVO XGi PRO Espresso Grinder is an excellent blend of durability, precision, and premium features, striking a perfect the balance between the three.  Fiorenzato grinders are known globally for their reliability, but with the most recent generation they also added a responsive and intuitive touch screen interface.  This interface makes it simple to program, even for the most novice of baristas.  The PRO line also has the innovative ability to access the burr chamber without any tools and without losing your grind setting.  It also maintains the EVO line built in cooling fan for higher volume situations.  In addition, the XGi Grind by Weight system doses at a much higher accuracy than traditional grind by time grinders, yielding more consistent coffee extractions.  For these reasons, the F64 EVO XGi PRO is going to be best suited for a medium volume coffee shop where precision is of high important and daily cleaning is prioritized for optimal coffee freshness. 
Fiorenzato F64 EVO XGi PRO Features
Easy to use touch screen interface
Grind by Weight dosing (XGi)
Built in cooling fan (EVO)
Toolless access to the burr chamber for cleaning & maintenance (PRO)
2 programmable doses as well as manual dispense

64mm Burrs
Stepless adjustment
Adjustable portafilter fork
Colors:
Frequently Asked Questions
Who is the F64 EVO XGi PRO for? 

Cafes or other Medium volume specialty coffee applications that are primarily concerned with high precision dosing.  Locations with rush periods in particular benefit from Grind by Weight grinders due to the streamlined workflow.


What is the difference between the E, Evo, and Pro Fiorenzato grinders? 

The "E" means the grinder uses on demand or electronic dosing.
The "Evo" means the grinder has both on demand dosing as well as a built in cooling fan for increased grinding capacity.
The "Pro" means that the grinder chamber can be accessed without any tools for quick cleaning and maintenance.  
For example, the F64 Evo Pro has on demand dosing, a cooling fan, and toolless access to the burr chamber.
Technical Specs
Burr Size: 64mm

Burr Type: Flat
Burr Material: M340 Steel
Burr Life Span: 880lbs / 400kg
Hopper Capacity: 3.3 lbs / 1.5 kg
Daily Capacity: 3kg / day 
Rpm: 1550
Dimensions: 10

"W x 12.5"D x 25"H

Weight: 34lbs
Volts: 120
Watts: 350
Amps: 3
Plug Type: Standard USA 110V
Documents
Warranty Info
All new Fiorenzato grinders include 1-year parts warranty. 
Disclaimer
There may be signs of use from the factory calibration process, which involves the use of coffee beans. Each grinder is factory tested and calibrated with actual coffee beans before being sold. Additionally, it is normal to have some coffee residue, dust, or particles leftover from the calibration process in a "factory new" grinding machine. 
---
Share this Product